Bright red against light gray, thin cross inside thick cross pattern, this design is based on a Kabuki actor's costume.
During the Edo era, the Kabuki actors were the trendsetters. In the famous Kabuki play called "Suzu-ga-mori", Koshiro Matsumoto IV wore a rain jacket with this pattern at a key scene. The play became so popular, that the pattern became a trend, and it was named after Koshiro Matsumoto's stage name "Koraiya".
"Koraikoshi" is worn in portraits of Koshiro Matsumoto IV, and in ukiyo-e depicting the play "Suzu-ga-mori." It is still worn by Koshiro Matsumoto IX today.
The sizes of the plaids and the color combinations have slight variations, but Todaya's "Korai-koshi" is a perfect accent to many warashi-ko jinbei. I always think it's amazing to wear a pattern that has been around over 200 years.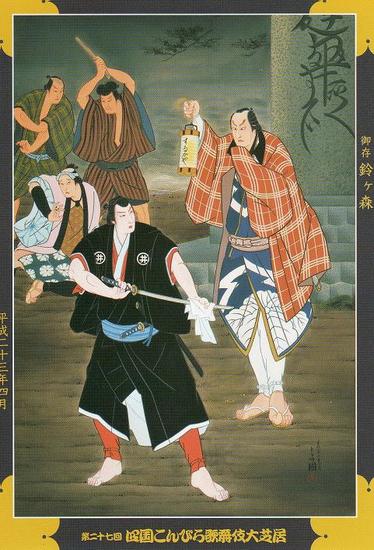 Above left: Kōshirō Matsumoto IV (1737–1802) as Sakanaya Gorobee, in the 1794 production of Kataki-uchi Noriai Banashi by Tōshūsai Sharaku
Above right: Suzugamori on the pamphlet for 27th Konpira Kabuki from Aoitori no Shiawase Sagashi
高麗格子|今着る歌舞伎生まれの柄
一般に「高麗屋格子」と呼ばれる、歌舞伎の衣装から生まれたこの柄は、太い十字の中に、細い十字をあしらったデザインである。
歌舞伎役者が流行の発信だった江戸時代。四代目・松本幸四郎が、「鈴が森」で幡随院長兵衛を演じた際に着ていた合羽の柄が出どころである。この演目が大変評判となり、松本幸四郎の屋号である「高麗屋」にちなんで「高麗屋格子」と名付けられたと言われている。
四代目・松本幸四郎を描いた浮世絵や、「鈴が森」を描いた浮世絵の中でも、「高麗屋格子」を纏っている姿を見る事が出来る。また、現在も「鈴が森」の中では、変わらず「高麗屋格子」が使われている。
浮世絵の中では、格子柄や色合いが少しずつ違っているが、戸田屋商店の「高麗格子」は、わらしっこ甚平にとっては、スパイスを加えてくれる欠かせないパートナーだ。表舞台に登場してから200年以上経った今、甚平の柄として着るのも中々粋だと思う。